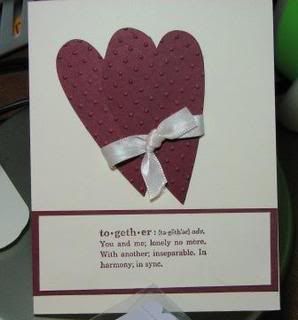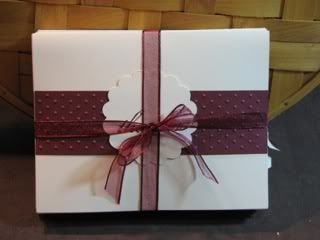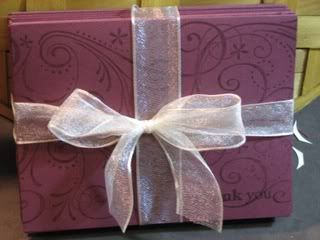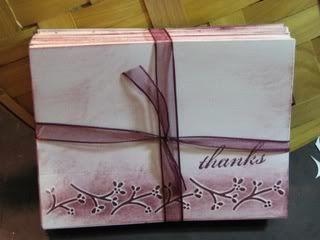 These are the TY Notes I was making for my Aunt's Wedding gift. I got them all done and packaged up and have given them to my aunt and uncle(to be). They seemed to be quite pleased! I'm glad they liked them. I made 125 ty cards. I also made the packaging. The "shopping/gift" bag was made from the TBBM on my cricut and the card file box I got the instructions from
Dannie's Designs blog, she has a video tutorial.
It was not too difficult to do while following her directions. I love the way it turned out. My Aunt was very pleased. I also was able to help out today with decorating the reception area with my 10yo dd. She taught her momma a thing or two about flower arranging. I then took what I had learned and put to good use making boquets and bouteneres(sp?). I had never done that before and I had a great time arranging and playing. Then I got to put to great use Robyn's tutorial on the ribbon tying! YAY! I did some sort of decorative ribbon tying on the boquet stems. I'll have to get pix tomorrow before the wedding and post them here. I was pretty happy with the way they turned out. Well I'm off for now. I have a wedding tomorrow! YAY it will be fun! Well I'm off here for now. Thanks for looking.